Our Thoughtful and Caring Instructors
SONIA
Owner & Founder, Yoga Instructor
"MY PASSION IS TO SPARK INNER EXPLORATION IN MY STUDENTS, AWAKEN THEIR CONNECTION TO THE TEACHER WITHIN SO THAT THEY CAN THEN SHARE THEIR BEST TO THE PEOPLE THAT MATTERS TO THEM THE MOST."
Warm Fusion Flow, Aerial Yoga Flow, Restorative & Fundamentals, YinYasa, Yin Stretch & Nidra, Beginner's Yoga Flow, Sculpt & Flow
Influenced by many inspiring yoga teachers, many peers,  my aim is to authentically share the transformative potential of yoga to my students through relatable approach of teaching. The basis of my teaching philosophy  is that every body can benefit from the yoga and awareness practices.
I teach in a way that provides full spectrum practice. From setting intention, meditation, pranayama, and internal awareness, I hold a heart-centered, safe space for my students to embody their own personal experiences on the mat.
I know I've always been a yogi since I was little, I just didn't know what to call it. I've always been reflective and have an intuitive nature.  Over 3,500 hours  of self study of different modalities  along with reading, trainings, there's definitely a lot to learn in this lifetime! I finally received my yoga teacher training certificate from Anchorage Yoga in 2016 after 10 years of on and off yoga practice.
My affinity for self-reflection, universal truth has led me to self-study various forms of mindfulness practices over the past 14 years. The physical practice of yoga came secondary, I didn't really have a devout practice until years later, with young family, and "busy" professional career in Finance and Business administration I struggled to find time for the physical practice in the midst of overwhelm. But ever since I step foot on the mat years years ago I know that there's something about yoga that made me meet myself where I'm at, so I come back to my mat over and over again. I knew then I wanted to teach Yoga and that I have something to share in the world in my own little way.
TAYLOR
Yoga Instructor
YinYasa, Sculpt & Flow, Mindful Flow, Aerial Yoga Fundamentals
Beginning yoga as a way to move her body energetically while managing chronic neck pain, Taylor would say she started yoga at her lowest point of fitness.  Getting little to no sleep at night and battling body aches, she decided something had to be done.  Taylor picked up a Rodney Yee: Power Yoga DVD, which sat on her dresser for months before she finally got around to giving it a try.  She began practicing occasionally for a couple of years, eventually moving on to daily YouTube videos and finally her very first public class in Pueblo, Colorado.
In the summer of 2015, Taylor began her 200-hour training to become a certified yoga teacher at a wonderful studio in Trinidad, Colorado.  Learning the ins and outs of Hatha Yoga allowed her to connect with her spiritual and emotional self.  Completing training in August of that year, Taylor moved home to Alaska shortly after.
Since the completion of her training, Taylor has maintained a consistent home practice, and supplements with several studio classes a month.  Yoga continues to guide her through something new each time she rolls out her mat, and even when she steps into day to day life.  She lives with little to no pain, and feels stronger than ever.
Taylor highly encourages students who have attended little to no public classes in the past to join her as she takes yoga back to basics.  Focusing on alignment and maintaining mind-body connection throughout your practice is of utmost importance, along with having a lot of fun.  Prepare to smile, laugh, challenge yourself, transform your body and mind, and probably even hug your neighbor.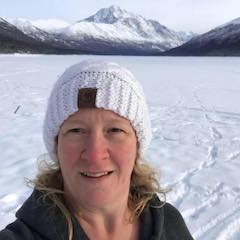 HEIDI
Yoga Instructor
Hot Fusion Flow, Tribal Yoga Dance
Heidi's teaching style merges strength and flexibility with moving meditation. This style of mindful practice pulls her students into the present moment and encourages them to be in their bodies now. Her intentions and themes in her classes will aid you in your yogic lifestyle and path. Heidi's teachings allow her students to sink deeper into their asana poses with long holds while remaining open and present to the energy of the subtle body. Her energy center creates a healing and supportive space that is key to a deeply connected studio practice.
Heidi come from an Anusara background and have trained with many amazing teachers. She received her 200 hour training from Shri yoga studio in PA. Heidi also mentored with her teacher there, she also trained with Seane Corn, and Desiree Rumbaugh and Desi Springer.
Heidi have a passion for teaching an open heart class.
LEISHA
Yoga Instructor
Aerial Yoga Fundamentals, Aerial HIIT
Leisha moved from New Orleans, Lousiana in 2011. In 2013 she attended the International Sivananda Yoga Centre and graduated their Advanced Teacher Training Course. After completing her 200 hours Yoga Teacher Training, she was awarded with great honor the title Yoga Siromani. She began teaching Hatha Yoga to children at the Dome in Anchorage & Cosmic Kids Yoga in the public school system. Having 6 kids of her own she has always known her deepest passion is teaching children. In 2015 she found love of silks and was certified as an aerial yoga and fitness instructor in 2016. She love to travel and learn. Always eager to come home and share her studies. She is also certified in kids yoga, prenatal yoga, senior citizen yoga, and sports yoga.