Zero To Yogi Challenge
Session starts October 1
Our Zero To Yogi Challenge is a 4 private sessions that will teach you EVERYTHING you need to know about yoga – from the breath to the postures from modifications to benefits, nothing is off limits. This program consists of  4 private group sessions over the course of a 28 days which consist of discussion, hands on instruction and mock classes. This is a great way to build a solid foundation for your yoga practice alongside others just beginning. Private Classes will be in person perfect for asking questions about the practice.
Tone and Strengthen Your Body

Gain Mental Focus and Awareness

Increase Flexibility and Balance

Feel Younger Than Your Age in 28 days 

(So You Can Keep Doing What You Love And Living Your Fullest Life)

Judgement Free Environment

Learn Posture Names and Movements
UNLIMITED IN STUDIO CLASSES FOR 28 DAYS
Get ready to sweat, be challenged, and fall in love with how you feel after each class… as you start turning back the clock.
Part of the Challenge is to practice 3x a week for the 4 weeks, but the more you practice the better you'll feel, so feel free to practice as much as you can. You'll also get access to our online on-demand classes for 28 days!
APPLY NOW AND SIGN UP BEFORE SEPTEMBER 15 AND GET ALL THE FOLLOWING BONUSES!!
BONUS#1 Sun Salutation Class Roadmap Online Course 
Worried that you'll look like a beginner and not know how to do the poses? This roadmap gives a pose-by-pose tutorial of EVERY SINGLE POSE in a Sun Salutation Series, so you'll know exactly how each pose should look and feel for YOU!
1. The Basic Body Position
2. How to Modify (make it easier)
3. How to Deepen (make it harder)
4. What the Deepest Expression looks like (most advanced)
BONUS#2 Complete Posture Blueprint Online Course 
This is the CHEAT CODE to all postures. The power of this course is in how it details the  7 Core Alignment Principles that create the foundation of EVERY POSE. It's kinda like the 30,000 ft view of yoga poses that gives you an incredible understanding of how to position the body ALL THE TIME… in every pose and in life!
BONUS#3 Mindfulness Meditation Online Course 
Learn how to meditate. Get the first 10 foundational instructions of mindfulness meditation using your breath and body. Get short, simple and doable instructions  in 10 minutes and build your skills in just 10 days of succeeding instructions.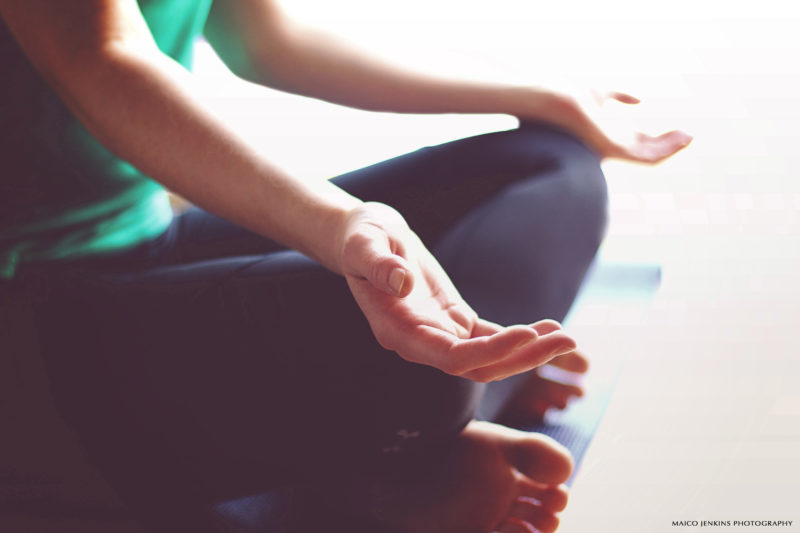 BONUS#4 JOINT HEALTH 101 GUIDEBOOK This is the ultimate guide for understanding the most common health dilemma that affected millions of people — joint problems. 
Here is what you will discover in this guide:
3 things you don't want to happen when you don't take care of your joints

How to know if your joints are damaged.

Symptoms of the 5 common joint problems you must know

The ONE thing you can do to prevent joint damage & improve joint strengths

4 specific joint exercises you can do to strengthen your joints

3 key things to keep in mind when performing joint exercises

The TWO most important nutrients for joint health

One of the best food to eat when you have inflammation

6 types of food (and drinks) to avoid when you have joint problems

How your body weight affects your joints (and what to do about it)

How to do a simple 'standing' posture exercise that will reduce the stress on your knees, legs, and back

9 simple home remedies to relieve joint aches

7 must-have supplements backed by scientific research for optimum joint health

One common mistake thing most people ignored that 'secretly' degrades their joint health without them knowing!

4 treatments to relieve excruciating joint aches!
Fill out the form, this will enable us to see if you are a good fit with the program.
Accepting Applications...Apply Here (Space is Limited)
What To Expect During This Program
Four 60 minute weekly private group session
Mix of discussion, workshops (posture lab), and practice (basics of mat yoga, aerial yoga and use of weights in yoga)
Learn correct alignment and modifications to postures as well as intensifications
Use of yoga props (bolster, strap, blocks, blanket) in any of the classes
Understand the "why" and not just the "how" of the pose
30 days access to studio classes
Slowly build a consistent yoga practice
Small group to get personal attention and accountability
Encouragement and support
Appreciate the mental as well as physical side of yoga
Homework to continue your practice between classes
Includes 30 days access to the classes at the studio (part of homework to attend specific classes)
Complete the program with the confidence to carry on a life long yoga practice